Recent Articles:
Minecraft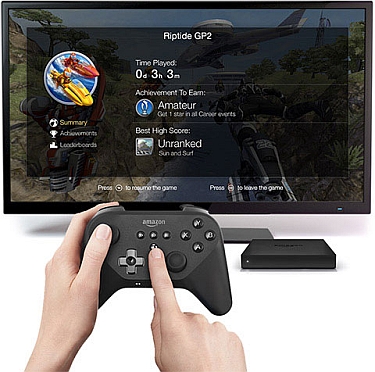 Amazon has entered another product market with the announcement of the Fire TV, an Android-powered set-top box that streams audio and video, and plays games. The Fire TV is available now for $99.
According to Amazon, the Fire TV is designed purely to outpace it's competitors. The 0.7-inch-thick box features a quad-core CPU with 2 GB of RAM, a Qualcomm Adreno 320 GPU, and a dual-band wireless radio with two antennas for 1080p streaming. Long story short, as far as tech specs go, it trounces the Roku 3 and Apple TV with ease.
The gaming aspect of the box is geared more towards non-traditional gamers, people who may already tap about on a smartphone or tablet. To get into the game, players will have to purchase an Xbox-like add-on controller that retails for $39.99. The controller also comes with 1,000 Amazon coins, a digital currency used for buying games from the Fire store. If a game supports it, players can choose to use their smartphone, tablet, or Fire TV Remote instead.
Amazon's in-house development team, Amazon Games, plans to build exclusive games for the device. Sev Zero, a third-person shooter/tower defense hybrid, is one such title and everyone who purchases the Fire TV Controller will receive it for free. Amazon hopes that by the end of next month "thousands" of games will be available from developers and publishers like 2K Games, Disney, Double Fine Productions, Electronic Arts, Sega, Telltale Games, and Ubisoft. Third party titles like Minecraft: Pocket Edition and Gameloft's Asphalt 8: Airborne are already available for the device.
Amazon has pegged the average cost of a Fire TV game at $1.85, with prices starting at $0.99. Free-to-play titles will be available as well. But what else can the Fire TV do? (more…)