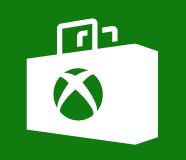 We've got three new additions to the Xbox Games Store to talk about today, and all of them have a decidedly old school vibe.
Q*Bert Rebooted: The Xbox One @!#?@! Edition (Xbox One) is a "re-imagined" version of the classic arcade game, but players are still expected to flip the board to a single color by hopping from cube to cube. This Xbox One-exclusive edition will include "enhanced gameplay," five new playable characters, and a soundtrack from EDM artist EnV.
In Space We Brawl: Full Arsenal Edition (Xbox One) isn't based on an older title, but it is a multiplayer twin-stick shooter where players battle it out with their friends to see who can be the last one standing. Offering more than 240 spaceship combinations, players will be able to customize their on-screen avatar to their hearts content.
Finally this week, D/Generation HD (Xbox One) is a remake of Robert Cook's isometric puzzle game from 1991. Dipping heavily into the cyberpunk canon, players will control a "jetpack courier" as he attempts to bring down an evil corporation and escape with his life.
More information on all of these games can be found after the break.
Press Start to Continue →