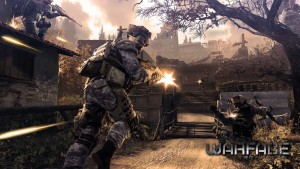 The full version of Crytek's ridiculously-named free-to-play first person shooter, Warface, is now available to download through the Xbox Live Game Store. If you're not a fan of war being right in your face, a new tower defense game, Defense Technica, was also released today.
More information on both Xbox 360 games can be found in their Dashboard descriptions (Defense Technica's, it should be noted, has not been edited in any way):
Warface (Free)
Engage in explosive action with this exhilarating free-to-play FPS from Crytek, keeping you on your toes with daily new missions. Master four soldier classes as you team up to complete daring Co-op raids or dominate Versus modes. Join the battle with unique assault moves and real-time weapon customization.
Defense Technica ($9.99)
The new revolution of Tower defence! Defence Technica! A project 'Noah' is now released to defeat the cruel invader Hergus and save the world. You should defend the core and struggle against the constantly rushing enemy in the battlefield where attack paths and the land, or weather are changed in real-time. You will be amazed at the gorgeous landscape in the beautiful graphic of Defence Technica. Upgrade various weapons to the enemy's attribute. Predict and decide promptly how and when to counterattack in response to their changing moving route.