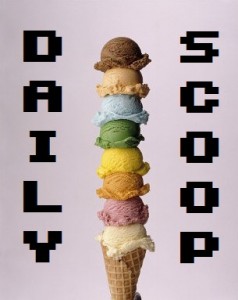 Last night's game jam judging was amazing! We got to play so many terrific games, and lots of people loved our game, Party Pooper! We didn't win anything, but I'm still pretty confident that our game rocks, and with more than two hours of work on it, I think it would go places. For right now, it's going in the queue of "games we want to make."
Let's see, what game deals are out there today? At the Humble Store, you can pick up Sins of a Solar Empire: Rebellion on sale for just $9.99. You can also get Saturday Morning RPG for $2.99, Steal & Steam for $2.49, and Monster Loves You! for $4.99. Over at Steam, the Weekend Deal is Ace Combat Assault Horizon – Enhanced Edition for $4.99, and the Daily Deal is Broken Age for $12.49.
The best part of today is, by far, these t-shirts!
Press Start to Continue →