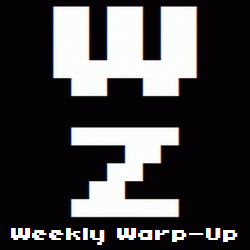 No, that's not a typo. Welcome to the Weekly Warp-Up, your weekly wrap-up of the biggest and the best articles posted at Warp Zoned this week…
Overture, curtains, lights,
This is it, you'll hit the heights
And oh what heights we'll hit
On with the show this is it
OK, I'm not Bugs Bunny, and this is not the start of the Bugs Bunny and Tweety Show, but Hollywood came calling for video games in a big way this week. Or rather, the gamemakers are calling Hollywood. Activision started things off by opening Activision Blizzard Studios, a film and television production company that plans to create a Call of Duty cinematic universe and a Skylanders animated series. But they're going to have to come out swinging if they want to create something as memorable as Metroid: The Sky Calls, a fan film that pays homage to the 60s and 70s cinema that inspired the original Metroid. Oh, and we also got a glimpse at the upcoming Warcraft film.
Finally this week, the Warp Zoned staff got together to talk about What We Played in October 2015 and The Games of November 2015.
More news from the week that was can be found after the break.
New Game Announcements
More News
New Videos
Rumor Has It
New Release Round-Up