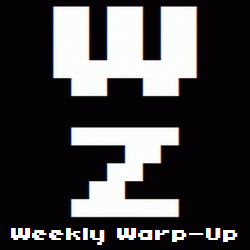 No, that's not a typo. Welcome to the Weekly Warp-Up, your weekly wrap-up of the biggest and the best articles posted at Warp Zoned this week…
Today's the final day for the 2017 PAX East convention in Boston, but we've learned quite a bit about a wide variety of upcoming games so far.
Nintendo released a new trailer that detailed additional features and the revamped Battle Mode in Mario Kart 8 Deluxe. Telltale revealed the first screenshots, plot details, and vocal cast for Guardians of the Galaxy. And Sony brought a staggering 26 PS4 games to the PlayStation Booth.
Meanwhile, Square Enix unveiled a loaded $200 Collector's Edition for Final Fantasy XII: The Zodiac Age. And Bethesda unveiled two new Quake Champions trailers for Nyx the Champion and the "Blood Covenant" Arena.
Elsewhere on Warp Zoned, I shared 17 Random Thoughts About the Nintendo Switch (and its Launch Lineup) and discussed the accidental creation of Ms. Pac-Man in the latest Scientifically Proven Best Video Games of All Time essay.
More news from the past seven days, including plenty more from PAX East, can be found after the break.
New Game Announcements
Pre-Launch Updates and Release Date Announcements
Other Game News
New Videos
Etcetera
New Release Round-Up