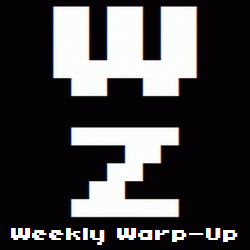 No, that's not a typo. Welcome to the Weekly Warp-Up, your weekly wrap-up of the biggest and the best articles posted at Warp Zoned this week…
Happy Anniversary… Happy Anniversary… Haaappy Anniversary!
Apple's iOS App Store celebrated its fifth anniversary this week and the massive company is sharing the wealth by giving iPhone, iPad, and iPod Touch users a present in the form of ten free games. And they aren't just random titles, it's some of the best stuff the App Store has to offer including Infinity Blade II, Superbrothers: Sword & Sworcery EP, Angry Birds Star Wars, Peggle, and Mirror's Edge. And speaking of Angry Birds Star Wars… Rovio has strongly hinted that the next five years of the iOS App Store will begin with the announcement of a sequel to the popular bird-flinger based on the Prequel Trilogy.
In non-video game news, we sat down with the co-creator of the card game Don't Play With Drugs on the eve of the end of its Kickstarter campaign. Sadly, the community chose not to fund the project, but hopefully the team at Right After Then will try again in the future.
What do you think about tabletop gaming coverage on Warp Zoned? Would you like to see more? Let us know in the comments and be sure to hit the jump for more news from the week that was.
The Week in Reviews…
The Week in New Games…
Amazing Paperboy Delivers…
It's A Secret To Everybody…
And Finally…
Google done did a Doodle celebrating the 66th Anniversary of the Roswell Crash. What does this have to do with games? The Doodle is actually an adorable point-and-click adventure game that asks players to help E.T. get home.