It's time to retire the "Big List of Nintendo NX Games" name and say hello to "The Big List of Nintendo Switch Games." While I'm sure you've spent the last few hours analyzing and re-analyzing the "First Glimpse" trailer for Nintendo's new console/handheld hybrid, let's take a deeper look at some of the games we know are in development for the Switch, and some we suspect might be.
Officially Announced
Dungeon of Zaar
Dungeon of Zaar is a turn-based strategy game in development at Kurb, a development studio located in France. Looking towards Final Fantasy Tactics, Advance Wars, and Pokemon for inspiration, the developer is attempting to fund the game through Kickstarter for a Summer 2017 launch on the PC and Switch.
If all goes well (there's roughly a week and a half left in the campaign), Dungeon of Zaar will bring 5v5 battles that focus on lightning-fast decision making to the Switch. A number of multiplayer options could also help the game stand out from the traditionally solo-only genre.
Previously Featured in the Big List of Nintendo Switch Games
In Development, But Unannounced
The Elder Scrolls V: Skyrim
The biggest shocker during our "First Glimpse" at the Switch had to be the smash cut to Bethesda's The Elder Scrolls V: Skyrim. Fans are gearing up to replay the remastered Special Edition of the massive RPG next week, but knowing that it'll also debut on Nintendo's next console (though it officially remains unannounced by Bethesda) was a nice surprise.
Mario Kart 8 Remastered/Mario Kart 9
It can sometimes be hard to differentiate one Mario Kart game from the next, so it shouldn't be a surprise that fans don't yet know if Nintendo was promoting a Mario Kart 8 Remaster during today's "First Glimpse" trailer or a brand new entry in the franchise. While a remaster is certainly possible (and considerably easier), the Mario Kart game on display in the trailer included King Boo as a playable character and two item slots, both of which are missing from Mario Kart 8.
NBA 2K17
NBA 2K17 is another game that players can pick up today, but its inclusion in the Switch sizzle reel marks a welcome return for Take-Two Interactive to the world of Nintendo. The publisher has more or less given up on Nintendo platforms in the last few years, so it's exciting to know that they'll lend their support to the Switch from the very beginning. Like Skyrim, NBA 2K17 remains unannounced (though obviously in development) by 2K.
Next Super Mario Bros.
We've known for a while now that Nintendo was working on a new Super Mario Bros. game, and now we know it'll be a full 3D title a la Super Mario 64 or Super Mario Sunshine. The precious few seconds we saw seem to hint at a "Day of the Dead" theme for one level, and the giant airborne rings are more than a bit reminiscent of Sonic the Hedgehog.
Splatoon
Like today's Mario Kart reveal, the appearance of Splatoon in the "First Glimpse" trailer could be pointing towards a remaster or a sequel to the ink-based shooter. Personally, I'm good with either, and I'm glad Nintendo is continuing to support one of their great new franchises.
Unannounced Image & Form Title
Image & Form, the developer behind SteamWorld Dig and SteamWorld Heist, is currently hard at work on an unannounced game for the Switch. They haven't shared any further details about the project (it could be SteamWorld 3 or something else entirely), but they're very proud that they managed to keep Nintendo's secret and that they're the first third-party developer for the Switch in Europe.
Even More Unannounced Titles
A huge number of publishers and developers were confirmed to have Switch titles in development this morning, and we'll likely learn more about them in the coming months. But for now, we can all start speculating on what kinds of games will be produced for the Switch by the dozens of partners Nintendo has lined up: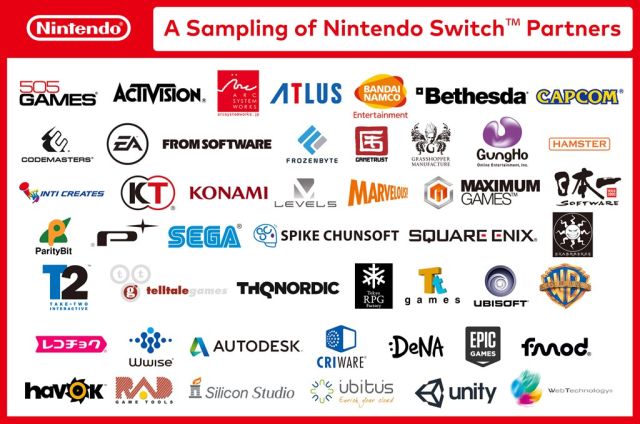 Previously Featured in the Big List of Nintendo Switch Games
Rumored
Beyond Good & Evil 2
Beyond Good & Evil 2 officially entered pre-production at roughly the same time as Switch-mania reached a fever pitch, making it natural the two would get intertwined. And so here we are, with a batch of rumors saying Beyond Good & Evil 2 will be a "standalone reboot" that's gearing up for a Summer 2018 launch on the Switch.
Supposedly, a new trailer confirming the game's Switch exclusivity was expected to make its debut today, but with Nintendo's "First Glimpse" at the Switch limited to just three minutes, there wasn't time for that.
Bloodstained: Ritual of the Night
Koji "Iga" Igarashi's Bloodstained: Ritual of the Night is currently scheduled to be released sometime in 2018, so the game's previously-promised Wii U launch is looking more and more silly by the day. With new Nintendo hardware officially on the way (and the Wii U on the way out), Igarashi has hinted that Bloodstained may move to the Switch if the fans ask for it.
The side-scrolling "MetroidVania" is also being built with Unreal Engine 4, an engine not supported by the Wii U. So while the official line from Igarashi is "We'll see," the reality is that it makes a lot of financial and practical sense to release Bloodstained on the Switch instead of the Wii U.
Final Fantasy VII Remake
Final Fantasy XV
Here's a fun one. Square Enix has already confirmed that the Dragon Quest franchise will make its way to the Switch, but a new rumor says that the next two entries in the Final Fantasy franchise, Final Fantasy XV and Final Fantasy VII Remake, will also appear on Nintendo's next console. Is it far-fetched? A little. But is it possible? Oh yeah.
Tom Clancy's Splinter Cell 7
Yoshi/Rabbids Crossover
The same batch of rumors produced a report that Tom Clancy's Splinter Cell 7 and a Yoshi/Rabbids Crossover are also in development for the Switch. Ubisoft has previously said they have multiple Switch games in development, and both of these titles sound like a risk the prolific publisher would take. I'd be more surprised if they're not in development.
Previously Featured in the Big List of Nintendo Switch Games