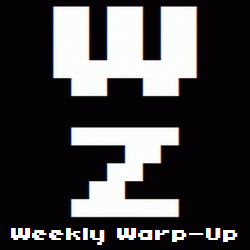 No, that's not a typo. Welcome to the Weekly Warp-Up, your weekly wrap-up of the biggest and the best articles posted at Warp Zoned this week…
Every few months, there's that one week where nothing truly BIG happens and you just have to make due with a bunch of smaller news stories. This is one of those weeks.
First things first, feel free to check out a recently-posted review of We Are Doomed, it's a pretty good twin-stick shooter if you're interested in that kind of thing.
Now then, it's neat that 2K Games is teasing a game currently known as Advent with a pretty interesting in-universe website. But we don't know anything else about it and probably won't until E3. It was also interesting to hear Sony's Andrew House say their 2015 lineup is "a little sparse" while calling the Vita a "legacy platform." I enjoy the honesty, but let's face it, everyone's 2015 is looking a little sparse. Thank god for Mario Maker…
Speaking of Nintendo, how about a standing ovation for the Humble Nindie Bundle, which brings the "pay-what-you-want" model to the 3DS and Wii U for the first time. That is seriously great, but not what you'd call "blockbuster" news.
Oh well, if nothing else, this week gave us the Darksiders II "Deathinitive Edition" and that's a terrible play-on-words I can get behind. If you're looking for more news from this past week, you'll find it after the break.
New Game Announcements
More News
New Videos
New Release Round-Up