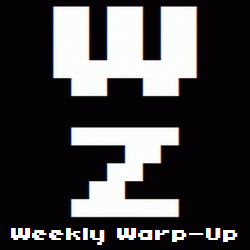 No, that's not a typo. Welcome to the Weekly Warp-Up, your weekly wrap-up of the biggest and the best articles posted at Warp Zoned this week…
It was April Fool's Day yesterday, and as usual, game publishers delivered a few goofy gags for their fans. And a few of them even turned out to be real.
The creators of Breaking Bad are NOT working on a Grand Theft Auto series for AMC, and NetherRealm is NOT adding the Wonder Twins to Injustice 2. However, you actually can dash down streets as Ms. Pac-Man with the "Insert Coin" filter on Google Maps. And Sega really did release 8-Bit Bayonetta as a free download through Steam.
But I think this year's most interesting prank might be the BlizzCon Textual Adventure (a parody of the Choose Your Own Adventure books) that Blizzard added to the convention's official website.
If you're looking for more actual news, the biggest headline from the previous seven days has to be that Destiny 2 is officially coming to the PC, PS4, Xbox One on September 8.
And speaking of shooters, we looked at how Disorganization Leads to Criticism At Halo World Championship 2017 Finals, and offered up our impressions of the Splatoon 2 Global Testfire.
Finally this week, our latest Scientifically Proven Best Video Games of All Time essay looks at the urban legends spawned by Pac-Man.
You can read all about the rest of this week after the break.
New Game Announcements
Pre-Launch Updates and Release Date Announcements
Other Game News
New Videos
New Release Round-Up