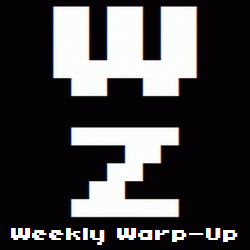 No, that's not a typo. Welcome to the Weekly Warp-Up, your weekly wrap-up of the biggest and the best articles posted at Warp Zoned this week…
We're fated to learn more about Bungie's Destiny sometime today. And in just three short days, Sony will detail all of their PS4/Orbis plans (probably). But the week that was still held a few interesting tidbits.
For example, our Interview with Jamie Fristrom. Back when he worked at Treyarch, Fristrom created the webswinging mechanic for Spider-Man 2. Nowadays, he's a one-man-band working on Energy Hook, an indie game that makes heavy use of a grapple gun.
And with the return of The Walking Dead to television, we also examined Five TV Shows That Should Be Games.
Destiny awaits. And so does the rest of the Weekly Warp-Up.
The Week in Reviews…
The Week in New Games…
Amazing Paperboy Delivers…
It's A Secret To Everybody…
And Finally…
Are you interested in a piece of prose poetry inspired by Hotline Miami? Because you should be.